CCC Monument Contributed by
Chapter #123 at Fort Worth Nature Center and Refuge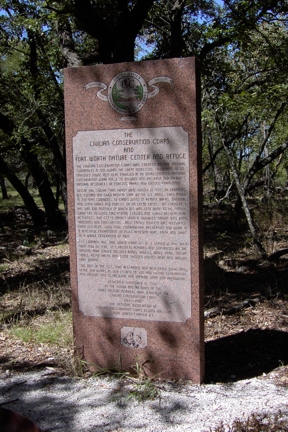 CCC Legacy "Cow Town" Chapter #123 is based out of Ft. Worth, Texas.  Chapter #123, was originally chartered in 1985.   After operational changes in 2008, the chapter reorganized as a CCC Legacy Chapter with second generation leadership.  
Great efforts are made to honor the CCC alumni leadership who first established the chapter.  Over the years, NACCCA has diminished.  As of  2012, Chapter #123 it is the only remaining NACCCA Chapter that is fully functioning and operates within the bylaws of the CCC Legacy Corporation. 
The chapter is a regular supporter of the CCC Heritage at the Fort Worth Nature Center and other events within the Texas State Park system.  

Everyone is welcome and can become a member.  They serve as CCC advocates and share the CCC story.   National membership in CCC Legacy is a requirement of chapter membership.
For more information on how to become a member and help promote the CCC in Texas contact:  President, Mike Pixler, at 817-929-1557 or [email protected] 
In 1990, Chapter #123 members were instrumental in placing a granite monument to honor the work of the CCC at Lake Worth.   In this 80th Anniversary year the monument has special meaning as following generations once again honor the work and heritage of the CCC at the Nature Center.  
Text on the monument reads:  
THE CIVILIAN CONSERVATION CORPS AND  FORT WORTH NATURE CENTER AND REFUGE
The Civilian Conservation Corps was created by the federal government in 1933 during the Great Depression.  Thousands of unemployed young men were enrolled in an unprecedented national conservation work force to reclaim and preserve our nation's natural resources of forests, parks and eroded farmlands.  
Men of the civilian "Tree Army" were housed in tents and barracks, fed, clothed and given medical care by the U.S. Army.  They moved in 200-man companies to camps often in remote areas, national and state parks and forests or on local lands.  An enrollee's pay was $30 monthly of which $25 was sent home to his family.  Camp life included educational classes and varied recreational activities.  The CCC's impact upon a troubled national was both immediate and long-lasting.  Most family poverty was alleviated.  Camp discipline, good food, comradeship, recreation and work in a healthful environment instilled renewed hope, faith and spirit to a whole generation of men.  
CCC Company 1816, Lake Worth Camp Sp-31-T served in this area from 1934-1938.  It's projects planned and supervised by the trails, picnic areas and stone shelters houses here and around Lake Worth.
"We men of the CCC, who reclaimed and beautified your land, leave our works as our legacy to you and future generations and implore you to preserve and improve upon our handiwork."
Dedicated September 15, 1990
To the honor and memory of the
Three million members who served in the 
Civilian Conservation Corps
The National Association of 
Civilian Conservation Corps Alumni (NACCCA)