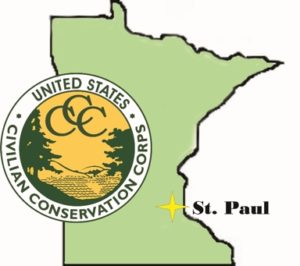 2014 CCC Legacy Annual Gathering
Co-Host: Conservation Corps Minnesota & Iowa
St. Paul, Minnesota

September 24 - 27, 2014
Still Hard Work...

Still a Good Deal!
Highlights of the CCC Legacy Meeting in St. Paul
Welcome and registration:  Meet and greet…informal discussion and information sharing about the CCC Legacy programing and future.  

Minnesota History Center:  Welcome and introduction to 

the CCC in Minnesota given by Barbara Sommer, Event Chair.  Group participation in 

a live, interactive CCC Education Presentation video about the history of the CCC which emphasises the effort to teach Minnesota 5th and 6th graders about conservation and the CCC.  Lead by Jack Mathison

St. Paul tour of CCC sites:  DNR Building at State Fair Grounds, Phalen Park Monument

Day trip to Jay Cooke State Park, one of the premiere CCC-built state parks in Minnesota, led by Conservation Corps Minnesota & Iowa Executive Director Len Price

CCC Legacy Annual Meeting

All Corps alumni gathering organized by Conservation Corps Minnesota & Iowa Development Director Cindy Green, Connie Lanphear, and Valerie Steffl with Conservation Corps Minnesota & Iowa Executive Director, Len Price  A great night at Flat Earth Brewery enjoying entertainment and meeting alumni from modern corps.  

NPLD tree planting.  Hidden Falls Regional Park, City of St. Paul Parks and Recreation.  Visit with Conservation Corps Minnesota & Iowa crew members, plant trees, get your hands dirty, lunch at the Mississippi River, and share in the enjoyment of a beautiful fall day.  
Department of Natural Resources, State Fair Building
The CCC-built DNR State Fair building was built by Civilian Conservation Corps enrollees in 1934.  It is 186 feet by 66 feet in size and is 40 feet tall at its highest point and was built using machine logs.  It opened September 1, 1934, and has been in continuous use since that time.   
The Phalen Park Monument was built in 1937 by enrollees in CCC Camp SP-17, Company 4727. Called the Lake Vadnais Metropolitan Park camp, also known as the St. Paul Forest and Water Preserve camp, enrollees from this camp built a marker made of native stone and rock gathered from CCC camps in all of the then 48 states in the United States and from the departments of Labor, War, Agriculture, and Interior. The cornerstone is from the floor of the White House. The marker was dedicated to young men across the country who had died while protecting the country's natural resources. It was restored by Chapter 33 of the National Association of CCC Alumni in 2008.
Jay Cooke State Park was established near Carlton, Minnesota, in 1915 when the St. Louis Power Company donated 2,350 acres of land for that purpose. Large-scale development began in 1933, when a CCC camp SP-2 occupied the park on June 22, 1933. Enrollees from this camp constructed the swinging bridge and the service yard, began developing the picnic grounds, and worked on eliminating soil erosion. The camp also helped in landscaping the Skyline Parkway so that the road would blend with its natural setting.

The camp was one of three in Minnesota that were terminated unexpectedly in October 1935. The Lake Shore CCC camp north of Duluth (SP-18) provided the manpower to finish a number of projects, including the half-finished picnic shelter.

A second CCC Camp, SP-21 Company 2711, was established in Jay Cooke State Park in May 1939. This camp continued development at the park and rebuilt the Swinging Bridge and constructed the River Inn. The camp was terminated on March 25, 1942, just before the CCC came to an end.

As part of a statewide listing of CCC-built state park buildings and structures,  the rustic-style buildings in the park were listed in the National Register of Historic Places in 1992. 

The River Inn
The River Inn in Jay Cooke State Park, with a length of 123' and a width of 48'6", is one of the largest buildings in the state park system. It was designed by Minnesota CCC architect Edward Barber and built by enrollees from Camp SP-21, Company 2711, between 1940 and 1942. Constructed almost entirely of dark, local gabbro, it was called a combination building because it contained rest rooms, a shelter, a refectory, a dining room, and kitchen; it was one of the few park buildings in the state with a full-scale restaurant. A paved terrace along the south faces the St. Louis River. 
The kitchen was removed in 1983 and replaced by offices. Exhibits now fill the former dining room and refectory space. The central area features a massive stone fireplace and a heavy timber truss system, both original to the building. Copper panels over the fireplace, installed at a later date, are based on the original plans for the building. 

Swinging Bridge 
The iconic Jay Cook State Park Swinging Bridge spans the rapids of the St. Louis River. A suspension bridge, it is supported by two massive concrete and stone pylons built by the enrollees in CCC Camp SP-2 to replace an earlier bridge. The CCC-built bridge was originally 18′ above the St. Louis River. It has been modified and raised several times and re-built twice, once after a flood washed it out in 1953 and again after it was washed out by a flood in 2012. The CCC-built stone pillars remain in use. 

Water Tower and Latrine
The water tower and latrine were built by enrollees in CCC Camp SP-2 according to the design of Minnesota CCC architect Edward Barber. The buildings have been slightly remodeled but retain their original look and use. 
Additional historic buildings in the park include a custodian's cabin, a pump house, a picnic shelter, and a drinking fountain. 

Sources: Jay Cooke State Park:  http://www.mnhs.org/places/nationalregister/stateparks/JayCooke.php,

Barbara W. Sommer, Hard Work and a Good Deal: The Civilian Conservation Corps in Minnesota, pp. 146-147
National Public Lands Day, September 27, 2014
Each year all across America, citiens come together to improve public land.  This year the corpsmembers of Conservation Corps Minnesota and Iowa developed a tree-planting project at Hidden Falls Park of the St. Paul City Park System.  In recent years many parks on the Mississippi River in St. Paul have been damaged by flooding.  At this gathering, all attendees had an opportunity to make a difference by planting a tree.
As with many states, the Civilian Conservation Corps (CCC) got a fast start after the United States Congress passed the Emergency Conservation Work Act on March 31, 1933. And as with many states, the opportunities for work it brought to the young men, aged 18-25, who were eligible to join this work-relief program were much needed.
Minnesota's 77,000 CCC enrollees worked on a variety of projects. Many were assigned to camps in state and national forests, prompting one forester to say the program was the most beneficial of the Roosevelt New Deal. Work in Minnesota's two national forests and the twenty-one state forests, done by enrollees in the state's fifty-one federal forest camps and forty-four state forest camps, included developing the first comprehensive forest inventory in the state, stocking Minnesota's lakes with over 275 million fish, construction of hundreds of dams, bridges, and other structures, fighting blister rust and other diseases attacking trees, fighting forest fires including building 149 lookout towers, stringing 3,338 miles of telephone lines, and constructing 4,500 miles of new roads. And President Roosevelt's tree army, as enrollees were often called, planted 123,607,000 trees in the state. 
Minnesota's state park system benefitted too. Twelve state parks, drawing on the work of enrollees in twenty-two camps, built an iconic infrastructure that is still in use today. Designed by CCC architect Edward Barber and his team of architects and engineers, the rustic style structures in the parks are a hallmark of the state park system. With this, park attendance tripled, topping one million for the first time toward the end of the CCC era. Many of these beautiful buildings and structures remain in active use today. The Minnesota CCC Workers Statues are placed in Gooseberry Falls State Park and Flag of Honor Park in Willmar.
Minnesota enrollees also did soil conservation work, primarily in southeastern Minnesota. There Roosevelt's "soil soldiers" helped develop soil conservation procedures on more than 16,000 acres of land. CCC enrollees also worked on highway beautification projects, on preservation of bird refuges, and at the tree nurseries that supplied the seedlings for the planting throughout Minnesota.  And enrollees in the CCC-Indian Division worked on Minnesota's Dakota and Ojibwa reservations.  In one case, while working on a wild ricing site, they discovered pottery fragments dating back thousands of years. Work on the Pipestone National Monument in southwestern Minnesota and the Grand Portage National Monument in northeastern Minnesota helped preserve and maintain these internationally known sites.
The CCC left its imprint on Minnesota's land, water, and forests. It also left its imprint on the young men who were its enrollees. In oral history interviews done in the 1980s and 1990s, when asked to sum up their experiences, over and over they said, "It was good, just a good deal." For those of us who benefit from their work today, it still is a good deal.